Introduction
Outdoor lighting is vital when it comes to the exterior decor of your structure. As your Greensboro exterior lighting experts, we take our jobs very seriously and are here to assist you with all your outdoor lighting needs. We put together this guide and the following blog post on outdoor lighting to inform you of your options and help you on your lighting journey.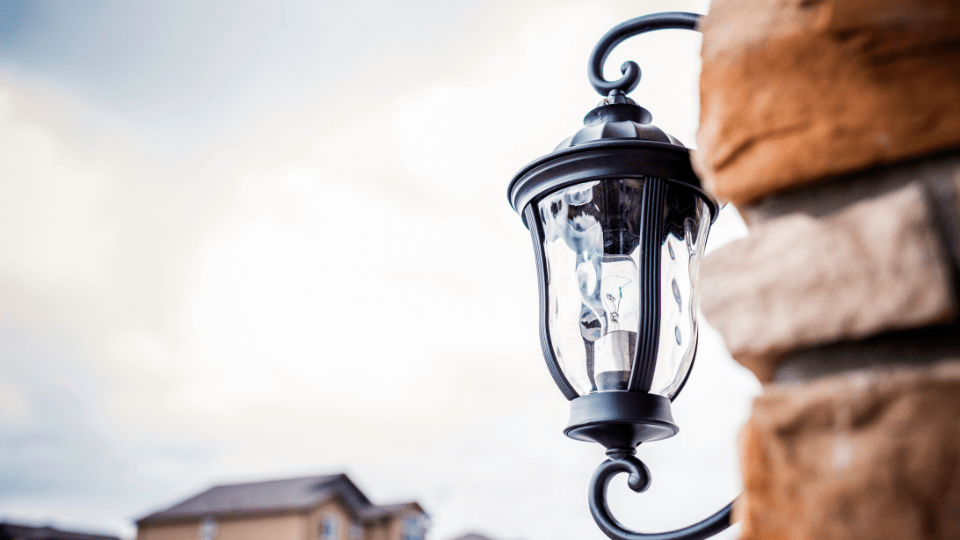 Why Should I Bother with Outdoor Lighting?
Outdoor lighting matters, and it's worth the investment. If you're not already a believer, here are some reasons why you should invest in high-quality outdoor lighting for your home or business.
It adds a sense of safety and security. Outdoor lighting at your home and business, particularly near doorways and walkways, can be a deterrent for those who like to lurk in the dark. On top of that, a well-lit pathway decreases your chances of stumbling over something in the dark, preventing potential serious injuries. Your employees — and even more, your family — will thank you for the investment.
It increases the curb appeal of your home or business. Getting creative with your outdoor lighting gives a sense of your personality to the exterior of any building. Beautiful lighting will make your home the envy of all your neighbors.
Outdoor lighting pulls everything together. When you take the time to select the outdoor lights that work best for you, the result is an unparalleled and cohesive look.
Shop Our Wide Range of Landscape Lights, Outdoor Fans, and all of Your Exterior Lighting Needs
The Carolinas' Preferred Lighting Supplier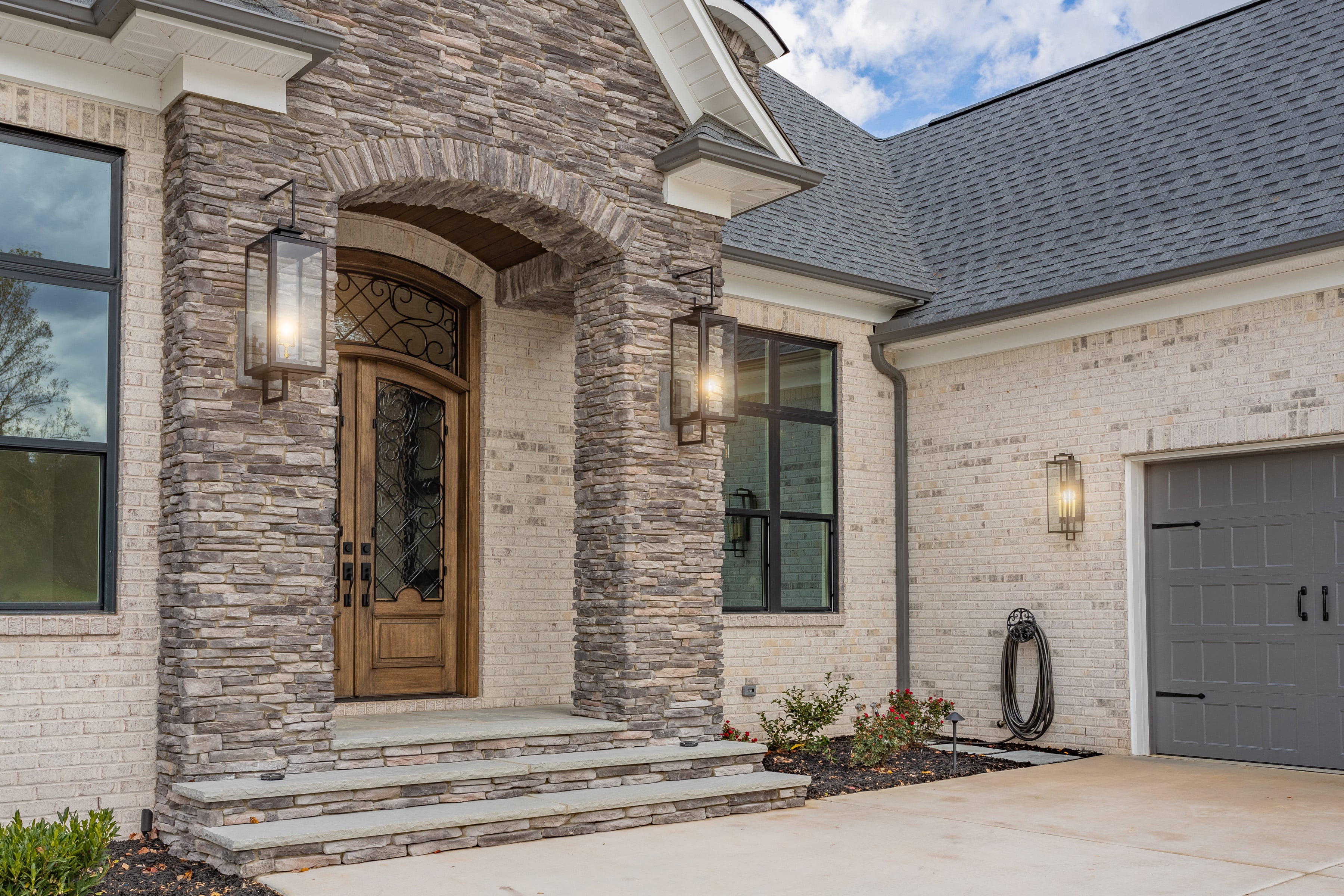 What Are My Outdoor Lighting Options?
Outdoor lighting can serve many functions, and thinking through what you want to accomplish is vital to getting the perfect setup. There are outdoor light fixtures designed to accent your home or business's landscaping or architectural details. Some are designed for safety and security when night rolls around — entryway lights, spot lights, or walkway lights are prime examples of this. You can also choose outdoor lighting for purely decorative purposes; these can really bring life to the spaces you've set aside for entertaining guests or lounging around.
Some of our favorite outdoor lighting options include:
1. Close to Ceiling/Hanging Lights
Ceiling mounts are designed to be attached to the ceilings of any outdoor space. Strategically placed on porches, gazebos, or entryways, these lights add great aesthetic value to any outdoor space. There is a variety of options to choose from – you can mix and match lights that hang with lights that sit flush to the ceiling for a varied look from space to space.
2. Landscape Lighting
Landscape lighting is pretty self-explanatory. Use this type of lighting to bring your landscaping features to life when it's dark. You can use it to highlight a garden area, a particular landscaping sculpture, an outdoor pathway, or even a garden gnome — though we usually recommend against this. Basically, use it to highlight some of the best features in your front yard.
3. Outdoor Ceiling Fans
Humidity and heat can be a difficult combination to endure in the dead of summer. Rather than splashing yourself with water from the hose or setting up countless small portable fans around your porch, ceiling fans can be the option you're looking for. Granted, this option is for a smaller audience as it lends itself to those who have some sort of overhead structure covering their deck or patio, but that can be next on your home improvement to-do list! Outdoor ceiling fans can come with or without a light, which gives you numerous options while providing you with a fan that will help you beat the heat.
4. Security Lights
Security lights, like spot lights, provide an extra layer of comfort and safety to your home. A popular area to place security lights is over your garage or in your driveway. You can choose to activate these lights with a motion sensor so they turn on only when movement is detected, or you can manually keep them on for a certain period of time.
5. Wall Sconces
Wall sconces are lighting fixtures which mount flush onto your walls. Most people choose to place their scones at their property's front entrance, on its exterior walls, or near any outdoor stairways. This lighting fixture is particularly useful for lighting the places where people are prone to tripping and falling — such as exterior pathways, walkways, or stairways. If placed properly – and with aesthetics and style in mind — it can add just the right touch of beauty as well.
6. Patio Lights
As the weather gets warmer, you may find yourself outdoors enjoying your patio later into the night. Lighting on your patio help you and your guests easily find your way around, especially between the patio and the interior of your home. Patio lights not only clearly mark a boundary, but they also help to keep guests off your lawn and on the patio.
7. Downlights
This option is great if your landscape has tall, strong trees that can be used to hang a light from or your home has a tall column near the pathway you want to illuminate. Downlights are essentially spotlights that have a little less power and are not activated by movement. Instead, they splash a soft amount of light across a selected area of your backyard or pathway. These can be great if you want to gently brighten a certain spot of your walkway or the end of the path and beginning of a deck staircase.
8. Traditional Pathway Lights
If you've ever seen someone's pathway lined with fixtures resembling miniature lamp posts, then you've seen a classic example of traditional pathway lights. These lights give you the ability to not only illuminate a walkway, but also define the boundary of the path so you can keep visitors off the grass and out of flower beds.
9. Upward Spotlights
These outdoor lighting fixtures are a fusion of traditional pathway lights and downlights. Like the traditional option, these lights will often line a walkway so guests know exactly how much real estate they have to work with. Like downlights, they will splash light across the length of the sidewalk, without lighting any other area such as the lawn or patio. These are great if you are looking for an option that will strictly illuminate the pathway and not waste its energy elsewhere.
10. Post Lights
If you are a traditionalist and want to make your pathway lighting resemble an urban downtown, opting for post lights can give you the feel you're looking for. These are just like street lamps but without the height. Using these can illuminate your pathway and yard from a height in between that of downlights and traditional pathway lights, while bringing some character and creativity to the landscape design.
11. Stair Lights
Similar to your paths and walkways, outdoor stairs and steps are often forgotten when it comes to lighting. When it gets dark, your guests may be unable to see a staircase or might misjudge exactly how high they need to step in order to clear it and get to the next level. There are stair lights made specifically to avoid this. One option is to install flush lights on the back of each step, which will define the end of each step and help folks know where not to step. You can also line stairs similarly to using traditional path lights, which will give the user an idea of just how tall each step is.
12. Solar-powered Lights
Solar outdoor lights are a quality option if you are hoping to eliminate any installation. Many options, especially those in the vein of traditional pathway lighting, are solar powered and ready to use right out of the box. You simply stick them in the ground, allow the sun to charge them, and watch your walkways become illuminated after sunset.
Illumination Ideas to Inspire You
Not sure where to begin your lighting journey? Here are some of our favorite ideas to help you get started.
1. Illuminate pathways and walkways
One of the most important aspects of backyard lighting is creating pathways that are safe and easy to navigate. Pathways can be lit with either solar lights or traditional outdoor lighting fixtures. Solar lights are a great option because they don't require any wiring, but traditional outdoor lighting fixtures provide more illumination. No matter what type of exterior pathway lights you chose, we recommend installing them at regular intervals along your pathways. This will create a well-lit path for guests to follow and make it easier for them to navigate your outdoor space. Plus, path lights are aesthetically pleasing and can add a lot of character to your outdoor space.
2. Add beautiful overhead lights to covered areas
If your outdoor space is covered, you may want to consider adding decorative overhead lighting. This type of outdoor lighting does not provide much illumination for guests walking around the backyard, but it is perfect for areas like patios and seating areas where people will be spending most of their time. Light fixtures with sleek designs are a great option because they blend in well with most outdoor spaces while still providing some light when needed. You could opt for something as simple as string lights or go with a more sophisticated look with pendant-style light fixtures.
3. Utilize deck lights
If you have a deck or porch, outdoor deck lights are a must-have. Deck lights come in a variety of shapes and sizes, but we recommend choosing something that is small and discreet. This will help to avoid having too much lighting in one spot, which can be overwhelming and distracting. Deck lights are typically recessed into the railing of the deck or porch. They are perfect for creating an inviting atmosphere on your deck or porch. Just be sure to install them at regular intervals so that the entire space is evenly lit.
4. Highlight architectural details
If you have any interesting architectural features in your backyard, outdoor accent lighting is the perfect way to highlight them. Outdoor accent lights come in a variety of shapes and sizes, so be sure to choose one that will complement the look and feel of your outdoor space. There are a variety of products that can be used for this type of outdoor lighting including spotlights, uplights, and wall washers. We recommend using a mix of different types of outdoor lights to create the most impact. Spotlights are perfect for highlighting specific features while uplights provide an overall wash of light.
5. Introduce a stunning doorway feature
When you want to give your home added evening curb appeal, one of the best places to begin is with a stunning doorway feature. Whether you choose something ornate or modern, a new doorway light can turn your older home into a masterpiece. In contrast, when you have an old and unimpressive light flanking your door, you can detract from the very first place your guests see.
Opt for two matching lanterns placed alongside your doorway for a larger porch. Choose a smaller and simpler lighting fixture for a cozier entrance. Upgrading the lighting fixtures by your door will go a long way in creating a more beautiful entrance for your family and friends.
6. Add unique lighting to your gardens
While we often think of outdoor lighting as something that simply serves a purpose, such as keeping your front doorway illuminated so you can unlock the front door, outdoor lighting can also be used to add beauty to your landscaping. If you have a beautiful garden with winding walkways and unique features, make the most of it by adding lights throughout. Tall hanging lanterns make an excellent choice for gardens. You can also utilize lights that are lower to the ground for keeping pathways safe to travel as your guests make their way through your illuminated garden.
7. Hang an outdoor chandelier
Need a little extra light over your outdoor eating space? Have you thought about adding a chandelier? This can be a fun addition to your home's outdoor living space. While you might think of a traditional chandelier, meant to hang above a formal dining space, there are numerous funky, fun, and otherwise unique chandelier options on the market which will give your outdoor living space with an extra touch of flair.
8. Give an old tree new life
If you are lucky enough to have old growth trees in your front yard, make the most of these gorgeous landscaping features with bright lights. By adding ground spotlights underneath your trees, you can light up the whole tree, including the beautiful trunk. Lights will play on the textures of the tree's trunk and branches, leaving you with an awe-inspiring front yard.
Holiday & Seasonal Lighting Tips
Make the holidays and every season an effortless display with a few of our tips and ideas.
Holiday Lighting Tips
If you are planning on installing holiday lighting around the exterior of your home, there are little plastic clips you can purchase to make the job much easier without causing damage to your home. These clips attach to your doorway or gutter, or even alongside your walkway. Simply snap the clips in place and guide the lightbulbs to their desired placement.
For larger outdoor lights you would like to illuminate your front walkway with, invest in some plastic stakes. These stakes, similar to tent stakes, are easily pushed into the ground and come complete with hinges to attach the lights to.
Before hanging your holiday lights, ensure you assess the connection and check that your lights work. Make sure there's an outlet or outdoor power cord that reaches and connects to your lights. Ensure you measure each space and know how long the lights are so you can precisely place the lights and clips. It's also important to review the manufacturer's instructions for the recommended number of strings that can be connected.
For the best holiday lights display, feature your home's best assets – if you have unique architectural features, highlight those. Don't forget about the chimney, arches, or fence!
1. Come up with a color scheme
Sometimes what you imagine and how it actually looks is completely different, so select a color scheme and test it out beforehand. Some houses love a vivid violet for their holiday lighting, but when it is done wrong it can look like they're leftover from Halloween. Classic lighting is always an option — solid white, alternating red and white, or red and green.
2. Showcase your yard
If you have great landscaping, outdoor holiday lights are a wonderful way to accentuate it. Adorn your large maple tree from trunk to branch tips in lights or dress up your shrubs with net or canopy lighting.
3. Line your yard with luminarias
This traditional holiday decoration just got much safer with the invention of battery-powered tea lights. Conspire with your neighbors and light up the night with sidewalk-lined luminarias.
Fall Lighting Tips
If you're looking for more seasonal design ideas, the fall is a great time to up your outdoor lighting game. One of the best ways to transition from the long summer days into shorter fall days is to control your lighting. Lighting can affect the mood of a space significantly — if it is too bright it can be harsh and off-putting, while too little light makes people sleepy because they are constantly straining their eyes.
When you install a lighting dimmer function to your outdoor lighting, you can control the amount of light as needed. You may also want to consider motion sensors and timers as a part of your outdoor lighting design.
You may also want to check your light bulbs or replace them with bulbs that are made to withstand the colder weather and consider placing covers over the electrical outlets to protect them from any moisture.
Some fall exterior lighting tips:
1. Cultivate class
As the trees are turning brilliant colors, fall is the best season to add landscape lighting to your yard. When you uplight trees and different scrubs, it not only adds an instant chicness, it adds depth from the brilliant shadows that are cast.
2. Add café lights
These round lights are the best things to have been put on a string! They are significantly larger than twinkle lights so to provide more light to spaces. Extend your outdoor space into the yard with café lights.
3. Add a fire pit
The cooler weather calls for additional outdoor warmth, so add a fire pit or chimenea. These natural pieces add both light and warmth, and can even make s'mores!
Summer Lighting Tips
During the summer months, the right lights will set the mood to allow guests to enjoy the outdoors well into the night. You may not need as much warmth as the fall, but lighting is just as important!
Some summer exterior lighting tips:
1. Start with the seating area
The first place to begin when you are creating an inviting outdoor living space to entertain in is the seating area. Make sure that wherever your guests will be seated, they will have ample light to enjoy their meal, drinks, or games. By focusing on this area first, you will be able to add lighting features afterward that compliment this focal point.
Lighting the seating area can be accomplished in a myriad of ways. You can opt for a soft ambiance by stringing lights over the area, casting a glow over your guests. If you want a more traditional lighting scheme, you can implement the use of tall lantern lights surrounding the seating area.
If your seating area is covered by a porch or other solid structure, you can even get creative with pendant lights hung over the space or an outdoor chandelier for extra flair. For a more practical but beautiful piece, opt for a ceiling fan/light combination. Whatever you choose, make sure that it will match the design of the rest of your outdoor living space while providing ample illumination.
2. Consider task lighting
Another great way to ensure that your patio is ready to be used into the late hours of the night is to invest in task lighting. This lighting does exactly what it sounds like it would — it illuminates areas where a specific task will be completed.
For example, if you have an outdoor stove, you can add task lighting over this area. This lighting can then be used as needed, but can also be shut off when you are finished using the space. Not only will task lighting provide the best illumination possible for a specific spot, it will also help create a better ambiance as it can be turned off when not in use. In this way, task lighting is a great way to avoid the use of floodlights, which effectively light up every area but ruin the ambiance of the space.
3. Add to the design with detailed touches
Once you have enough lighting for your seating space and for the tasks you need to perform, you can move on to the best part — the small touches. This is where your creativity can shine and you can tie together the design theme of the space as a whole. The great part is that you are not limited to just the patio area — you can spread lights throughout the entire landscape.
The following are a few examples of extra design lighting you can add to your outdoor space:
Hanging lights
Pathway lanterns
Wall sconces
Strings of lights
Landscape lights (such as fountain lights, waterfall lights, etc.)
Step lighting
You can combine these elements with your larger light features to design a specific style and ambiance. For example, adding ornate lanterns around the area will complement a more traditional style. Conversely, you could add hanging Edison bulb pendants for a trendy look.
Conclusion
When it comes to outdoor lighting, there are endless possibilities. There are so many different products to choose from, and it can be difficult to know which type of outdoor lighting will help you create the ultimate space.
That's where Butler Lighting comes in! We are a leading provider of home lighting products, and we offer a wide selection of exterior lighting products that will perfectly illuminate your backyard space. With a little bit of creativity and some help from Butler Lighting, you can create the ultimate perfectly-lit outdoor space. We offer a wide selection of exterior lighting products, making it easy for you to find the lighting solutions needed to create a setting that you'll enjoy for years to come.
If you are looking for a way to upgrade your home's landscape and exterior lighting, trust our experts. Browse our online selection or stop by one of our locations in the Greensboro area and see why we are North Carolina's number one choice for lighting!