One of the most important rooms in a house is the bedroom. It's the first thing you see when you wake up in the morning and the last thing you see before falling asleep at night. Whether you realize it or not, the way your bedroom makes you feel plays an integral part in your day and psyche. If you do not feel good about your bedroom, upgrading your lighting or light bulbs may be a good place to start.
Lighting should be functional, but it can also add to the mood of a room. Most people want to design their bedrooms to feel cozy and welcoming after a long day at work. A bedroom can feel more cozy with the addition of lighting fixtures such as overhead fixtures, bedside lamps, sconces, and more. Whether you need more lighting to assist in your nightly reading or if you want to add a functional piece of decor, it is important to first understand bedroom lighting design.
The Golden Rule
One of the most popular tips when it comes to bedroom lighting design is to layer. To bring a bedroom to its fullest potential, it needs to have the golden trifecta of lighting: ambient/general, task, and accent lighting. All three of these types of lighting serve a good purpose.
Shop Our Wide Range of Landscape Lights, Outdoor Fans, and all of Your Exterior Lighting Needs
The Carolinas' Preferred Lighting Supplier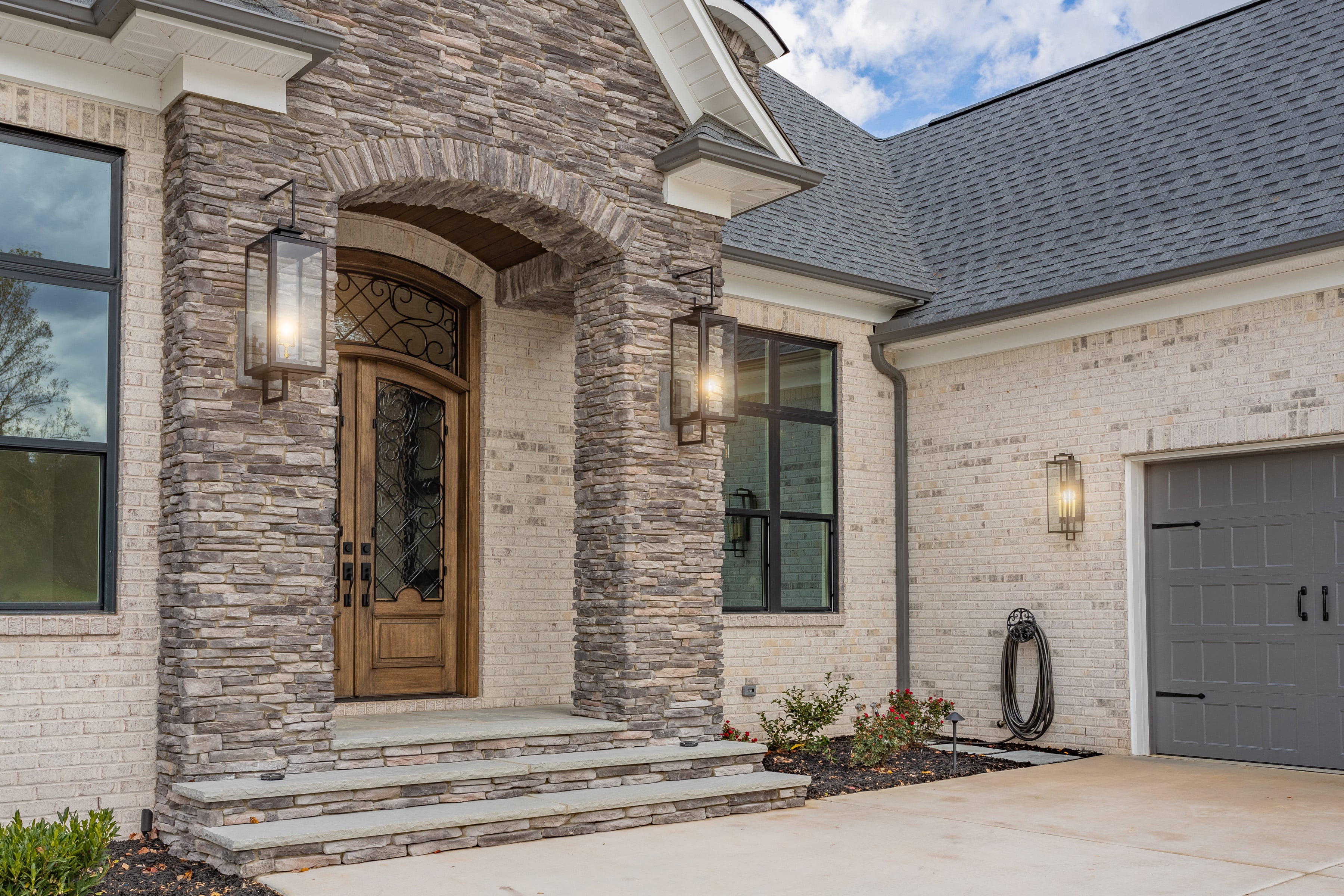 Ambient lighting
Ambient lighting, also known as general lighting, is the overhead lighting that helps situate everyone who walks into the bedroom.
Overhead lighting is important to be able to see where you are and where you are going. However, to make the most of your bedroom, you will need more lights than just overhead lighting. Overhead lights are typically too high to illuminate every little area in the room perfectly. For example, the perimeters of the room can get a little dim. Recessed overhead lighting can help illuminate the perimeter of the bedroom.
Ceiling fans with lights are a fantastic option as a bedroom overhead lighting fixture. It solves two problems, lighting and temperature, in one beautiful fixture.
Task lighting
Task lighting is the direct lighting that helps you see more clearly in those task-oriented areas of the room. For example, in the comfortable bedroom nook where you write in your journal every night.
Task lighting is necessary in the task-oriented areas of a bedroom where you would be reading, writing, and getting dressed. If you read in bed, an interior designer might recommend placing two wall sconces on either side of the bed. If you read at a small desk in your room, another option would be to utilize a desk lamp. Perhaps you have a cozy reading nook, where a floor lamp might be the best option. If you pick out your outfit from a dresser every morning, it would be smart to place a lamp on top.
Wall sconces work wonderfully for couples. A perk is that you can opt for an arm-sconce if you are a big late night reader. You can have them hardwired to work independent of each other. This way one person can read into the late hours of the night while the other still gets a great night's sleep.
Accent lighting
Accent lighting is lighting that enhances the overall lighting design of the room. It helps set the mood of the environment, highlights certain objects, and adds to the overall room aesthetic.
Accent lighting can also be called decorative lighting. For example, if you have overhead recessed lighting, a bold chandelier can count as accent lighting. Bedside table lamps can also be a great way to add functional decor into the bedroom. This way you can show off the personality of your bedroom while still benefiting from a lamp closeby to the bed. If you have artwork on your bedroom walls, you can add accent lighting to highlight the piece and set a sophisticated mood. The lighting would add a soft glow along the edges of the artwork.
Lighting Temperature
It is imperative to choose the correct lighting temperature in the bedroom. You would not want to choose the wrong lights and turn your clean, white bedroom into a cold, hospital-like room. Choosing soft white bulbs for the ambient, task, and accent lighting in the bedroom can help make your bedroom feel more pleasant. For a moody, warm, amber glow, stick with a temperature below 2700-3000 Kelvin. You can also add dimmers to lower the lighting heat levels.
Size and Scale
It is helpful to understand the general rules when it comes to scaling your bedroom lighting before upgrading your fixtures. For bedside table lamps, keep the lamp between one-third and two-third the width of the nightstand. If you prefer to fill the space, opt for two-third the width. For overhead lighting in bedrooms with tall ceilings, try to fill the space with a large, statement light fixture such as a grand chandelier. Another great option would be a funky pendant that matches the decor in your house. For overhead lighting in bedrooms with normal ceilings, you will want to select a light that does not hang too low. A safe spacing is eight feet above the floor. Another tip to create a comfortably-filled space would be to choose an overhead fixture that is one-fourth to one-half the width of the bed.
In order to create a cozy bedroom, you do not want to make it too bright. If your bedroom is on the smaller size and your lighting fixture has two or three bulbs in it, there is a chance that it will be too bright.
Partner with Butler Lighting
In conclusion, there are plenty of benefits to upgrading the lighting design in your bedrooms. Bedrooms are a safe space for people to unwind and relax. It is pertinent that you can see in your bedroom. You will feel better with an improved lighting system, such as adding wall sconces, if you tend to spend hours reading, writing, or relaxing in the bedroom. Next, implementing an intentional lighting design will improve the aesthetic of the bedroom and your home overall. If your home is grandiose, you might enhance your bedroom even more with a crystal statement chandelier. On the other hand, if your style is abstract, you can use unique lamps to serve as decor. If you leave your bedside lighting on nearly all night long, you can end up saving plenty of money by investing in LED lights. Lastly, any home improvements, such as improved lighting, will increase the value of your home and make your living spaces feel so much more pleasant.
Upgrading lighting can sometimes get confusing and overwhelming. That's why our professional Lighting Designers at Butler Lighting are eager to help guide and advise you as you improve the quality of your bedroom lighting design. Butler Lighting has been serving North Carolina communities and the USA since 1948. Come down to our High Point or Greensboro, North Carolina showroom or shop online today!