Butler Lighting aims to assist companies that manufacture top-notch USA Made Lighting products, with a focus on both durability and design. Well-crafted lighting fixtures can transform ordinary rooms into charming and sophisticated spaces. For this reason, Butler Lighting is delighted to present Genie House as part of its product range.
Open A Credit Account With Butler Lighting!
The Carolinas' Preferred Lighting Supplier
Who is Genie House?
Genie House, a company that produces elegant light fixtures, was founded in 1967 by Lloyd Williams Sr. From the very beginning, the company's main goal was to focus on detail and use only the highest quality materials to ensure durability. With a vision for perfection, Lloyd Williams Sr. set out to create handcrafted lighting fixtures that were both beautiful and long-lasting. After Lloyd Williams Sr's passing, his son, Lloyd Williams Jr, continued his father's vision and made sure that the company lived up to its core values. Today, Genie House has become a successful company with factories in New Jersey and Arizona. All of their lighting fixtures are produced in these two facilities and distributed around the United States and Canada.
One of the unique aspects of Genie House's lighting fixtures is that they are created by hand. Highly skilled professionals who prioritize their work craft each fixture, ensuring that every piece is made with the utmost care and attention to detail. Genie House takes great pride in its work and offers a lifetime guarantee on every handcrafted lighting fixture that it produces.
Genie House has managed to become a leading name in the lighting industry due to its commitment to excellence, quality, and customer satisfaction. With a wide range of fixtures, Genie House offers a comprehensive selection to suit any taste or design style. The company's success is a testament to the importance of craftsmanship, attention to detail, and a commitment to using only the highest quality materials.
What Types of lighting fixtures does Genie House Offer?
At Genie House, their main focus on lighting fixtures is lanterns. They offer a wide range of lantern options to cater to everyone's desires. Below are some of their most popular types of lanterns.
Flush Lanterns
A flush lantern is a type of lighting fixture that hangs directly on top of a ceiling. Here, the light is directed to shire downwards. Typically, you can expect to see flush lanterns in rooms with ceilings closer to the ground. This is due to the fact there isn't much space between the light fixture itself and the ceiling, they are a good option for shorter ceilings so dust cannot get into the bulb itself.
Bracket Lanterns
This type of lantern typically is mounted on a wall or post, by some sort of bracket or arm. Bracket lanterns make it convenient to attach a lighting fixture to posts or areas that might be difficult otherwise. Typically, Bracket Lanterns can be found outdoors, or in hallways. This helps to illuminate a space that otherwise would be dark due to the lack of space to add any other kind of lighting fixture.
Pendant Lanterns
One of Genie House's most popular lighting fixtures is the Pendant Lanterns. These types of fixtures hang from the ceiling, similar to a Flush Lantern. Pendant Lanterns can also be used on shorter ceilings, as well as higher ones. One would likely install a Pendant Lamp over a countertop or dining room table, to help bring light closer to the table itself. These fixtures usually hang from the ceiling rather than being attached to the ceiling itself, so they can be adjusted to the perfect length for your specific use.
Pier Lanterns
Pier lighting fixtures are also ones that are typically found outside. This is because they are designed to mount on top of a post, or column. This is a great option for those with existing poles or columns outside their properties. Rather than installing completely new structures with lighting fixtures, you can simply attach a Pier Lantern to your current structures.
Accessories
Besides lighting fixtures, Genie House also specializes in accessories for lighting fixtures. These accessories help offer some customization to their most popular lanterns. Specifically, they offer brackets for Bracket Lanterns and Pier Mounts.
Additionally, Genie House offers a unique "quick ship" feature that allows a select few of their pieces to be shipped in just 10-14 business days. This allows customers to receive their lighting fixtures as quickly as possible. One of their most popular pieces, the Jericho Post 453 is available for quick shipping.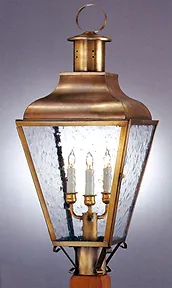 Can You Get Custom Lighting Fixtures From Genie House?
The Genie House brand is known for its exceptional attention to detail in their light fixtures, which are handcrafted to meet any requirements in regards to size. From small, intricate pieces to large, show-stopping fixtures, the brand fully embodies a deep understanding of American made lighting. With a focus on quality materials, including glass and metal, and various socket types and counts, Genie House is able to create stunning light fixtures that enhance the beauty of any space.
Which Fixtures does Butler Lighting Offer?
Butler Lighting carries a wide variety of Genie House products. Below are some examples of Genie House products you can find at Butler Lighting.
Pier Mount (265|FA4732PIERDBS)
This is one of Genie House's Pier Lanterns. This fixture is a 4-bulb lantern with a dark bronze finish. Additionally, the glass in the fixture is a clear seedy finish. A Pier Lantern is ideal for mounting on a post or column outside.
Pendant (265|FA47323DCC)
Butler Lighting also carries Genie House Pendant Lanterns. As mentioned above, Pendant lighting fixtures are ideal for hanging over dining spaces or countertops. These can go on both low and higher ceilings, and be adjusted based on your desires. This Pendant Lantern has a dark bronze color with a clear glass finish and 4-bulbs inside.
Pocket Lantern (265|FA4730PDCC)
This lighting fixture is a Pocket Lantern. Featuring a dark bronze finish and a clear glass setting, you could mount this fixture on the wall or outside to add some illumination to darker areas at night.
Custom Finishes
While Genie House offers its intended versions of different lighting fixtures, different finishes are available to add some customization to each piece. These finishes can be the material or color of the lighting fixture or the glass option in each lantern.
In terms of material and color finishing options, Genie House offers everything from copper to brass and ternplate custom metal. They also offer three different types of glass options: Clear Glass, Spectrum Glass, and Seedy Glass.
For custom finishes and glass, contact your local Genie House distributor to learn more.
Shop Genie House at Butler Lighting
In summary, Genie House specializes in crafting distinctive lanterns by hand, utilizing only the finest materials to produce top-quality lighting fixtures. Their product line ranges from Pendant Lanterns to Flush Lanterns, with each lantern available in various finishes and glass options to create a personalized experience.
At Butler Lighting, we are honored to be an authorized partner of Genie House and offer some of their most stunning lanterns. Our priority is to provide our customers with high-quality lighting fixtures that meet and exceed their expectations. For more information on Genie House and how to purchase one of their lanterns, we invite you to visit our premier showroom located in High Point, North Carolina, and speak with one of our knowledgeable store associates.