The kitchen is one of the most well-loved rooms in a home. It is a place where loved ones gather and meals are both prepared and enjoyed. That means it's one of the most important spaces to incorporate proper lighting design. For an optimal environment, your kitchen should layer ambient, task, and accent lighting. Is your kitchen getting enough lighting? If not, where are the different areas you can add more lighting to your kitchen? Plus, upgrading your kitchen lighting helps not only your eyes but your wallet.
AMBIENT, TASK, AND ACCENT LIGHTS
All great lighting designs begin with the "golden trifecta of lighting" — layering ambient, task, and accent lighting to create a space that is not only well-lit but one that is multi-dimensional with a specific aesthetic.
AMBIENT
Ambient lighting is the first part of any lighting design, as it is the center of any room and provides general overhead lighting. It fills your kitchen with high and luminous light to create a pleasing environment.
TASK
This type of lighting is essential in task-oriented areas of the kitchen. It comes into play in areas where you, for example, need assistance reading recipes or where you failed to notice the sauce splattered all over your backsplash.
ACCENT
Accent lighting enhances the overall lighting design. It helps create the ultimate atmosphere by adding the missing component you never could place. Accent lighting can work for every different kitchen aesthetic.
LAYERING
It is recommended to layer lighting in key areas of your home. The kitchen is typically the most frequented space in the home. That being said, it's one of the most important rooms to light properly. A layered lighting design will create an environment that your family and guests will want to spend time in and create a productive workspace by reducing glare and reflections. An example of layering different types of lighting in the kitchen could be pendants above the kitchen island, toekick lights beneath the cabinets, and sconces above the countertop space.
Shop Our Wide Range of Landscape Lights, Outdoor Fans, and all of Your Exterior Lighting Needs
The Carolinas' Preferred Lighting Supplier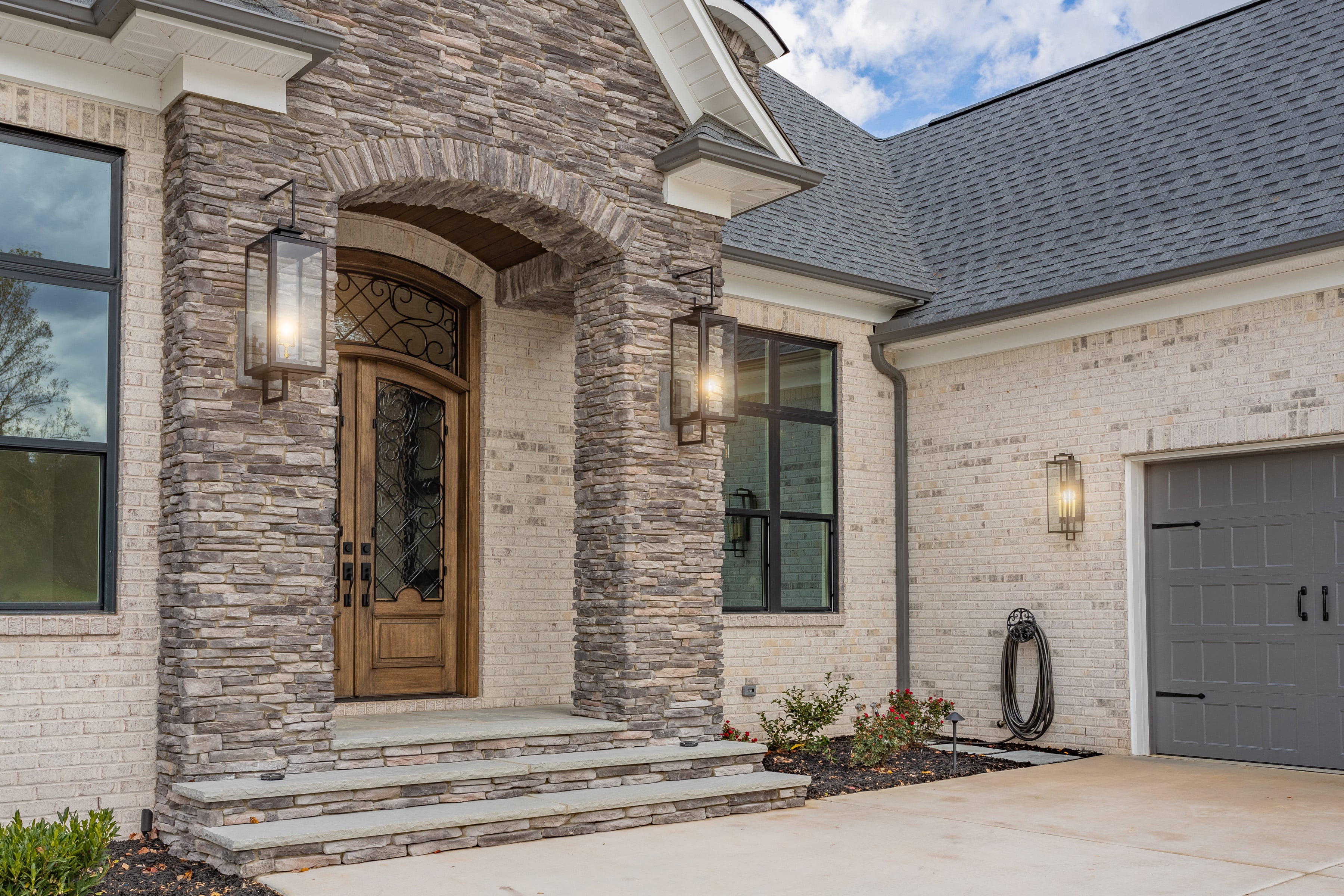 KEY LIGHTING AREAS OF THE KITCHEN
Ambient/overhead lighting: Ambient lighting is the general overhead lighting. There are a multitude of ambient lighting options available today that strays from just one single mundane fixture or fluorescent lighting.
Island Lighting
Pendant Lights:
Lighting designers suggest setting two lighting pendants at least 30 inches in opposite directions from the center of the island. It is also recommended to space them roughly 30 inches from the top of the island to the bottom of the pendant. You may add as many pendants as you prefer, but designers generally stick to two or three.
Linear Suspension Lighting:
This type of light hangs from the ceiling from a couple cords and spans out horizontally with three to five pendant lights.
Under-the-cabinet Lighting
Puck Lights:
These are circular-shaped lights that can be placed underneath the kitchen cabinets to illuminate any task and form a pool of concentrated light.
Strip Lights:
These lights provide the perfect amount of light for especially low cabinets that receive very little light and serve as an ideal night light.
Accent Lights:
Accent lighting incorporates the following:
Toekick Lights:
Toekick lights are crafted from either rope lighting or LED tape and typically placed under floor cabinets to better illuminate the floor. They also work well as a night light.
Top-Cabinet lighting:
These lights are typically placed on top of cabinets if there is a space between them and the ceiling. This can highlight special decorative pieces or provide an additional layer of light to the room.
Recessed Downlighting
Recessed downlighting is perfect for large kitchens where you are able to both illuminate the entire kitchen and put additional emphasis on areas that require the most lighting. You can add a dimmer to control the amount of ambient light while you layer in the task and accent lighting.
Mounted Lighting
If you have a smaller kitchen, a mounted or semi-mounted lighting fixture is a great option. Contrary to recessed lighting, this is a visible lighting fixture that you can add your own personal style to.
BENEFITS TO UPGRADING
There are a multitude of reasons to upgrade your kitchen lighting design. First, the improved lighting design will help you see much more. You will be able to read all your cookbooks and mince vegetables with ease. Your guests will enjoy the vibe created by a well-lit space.
Proper lighting design will improve the overall look and feel of your kitchen. The countertops and cabinets will be illuminated much better, which is essential if you have spent time selecting quality options.
If you choose LED lighting, you will be saving money. LED lights will make your home more energy efficient which leads to a smaller utility bill.
Naturally, any type of home upgrade will increase the value of your home. The same goes for improved lighting design. Puck lights won't only make your home feel more expensive, but they will increase your reward if you ever go to sell.
UNIQUE IDEAS FOR KITCHEN LIGHTING
Lighting doesn't have to be boring. Your lighting can be a conversation piece for guests. To add a wow factor into your kitchen, think of incorporating geometric shaped lighting, natural elements, or glass shades. Geometric shaped lighting adds a dramatic focal point into your kitchen. This choice ensures that the pendant is the first thing your guests will notice as they walk into the kitchen. Another great choice would be to transform your home into a peaceful sanctuary by bringing natural elements into your kitchen. There are plenty of pendant options with different woods, beads, woven elements, and other real raw materials. If you prefer a very bright and cheerful kitchen, allow the maximum amount of natural light to enter by incorporating glass light shades. The natural outdoor light and nearby layered lights will pass through the glass shades to brighten the room even further.
PARTNER WITH BUTLER LIGHTING
Butler Lighting has been serving the communities of Greensboro and High Point, North Carolina since 1948. The High Point location was our first lighting showroom to open to the public in 1991. Our lighting showroom showcases many of our hundreds of different types of lighting available to spruce up your home and make it beautiful and functional. We offer both indoor and outdoor lighting, so you can craft your ideal interior and exterior.
Our lighting specialists realize how pivotal kitchen lighting is and are here to help guide and advise you. They are ready and eager to show you all of our lighting options and explain their features and benefits.
If you are looking for the best exterior and interior lighting, shop in-person in Greensboro or High Point or shop online today!